Hello, dear readers!
Everything comes to an end.
Sometimes this is a sad thing. The end of an era. The passing of a generation. The full stop at the end of the sentence. Fini. Done. The End.
Then again, there are some things in which the end comes not too soon, but bang on time, and this last week has brought just such an ending.
Social Climbing
If you read last week's offering you might have an idea as to what I'm rambling on about, if not you can find out
here
, but not not to put too fine a point on it, I'm talking about our brand-spanking new roof.
Yup, since this time last week when, if you remember, the scaffolder had just finished erecting what looks temptingly like a giant set of Meccano (or to my ever-wondrous wife, Tina, a climbing frame) outside our house, Tina and I have had multiple disruptions to our lives. Disruptions which (spoilers) have proven well and truly worth the disrupting.

Thursday saw our second heavy metal delivery in two days, in the form of a skip. This proved very tempting. Could we get rid of the old carpet that's been haunting the house like the ghost of a rolled up Cleopatra (if that's not hitting home, try watching Carry On Cleo)? Could we get rid of the black bin rubbish that accidently found itself in the green bin? Could we add a bit of garden waste into the mix once we got access to our back-garden back?

All these questions and more ran through our minds but, if we wanted to act on any of them we acted too slowly. On Saturday, the roofing crew arrived in full force.

Move It!
Before they started with any work there were a few precautionary measures to take care of. First of all was the moving of both my car (which, as the skip delivery people had taken advantage of our absence by parking said skip in the driveway, had already been moved to the roadside), and the car of our next-door neighbour,

This, initially, seemed like a case of health and safety gone mad, but as the boys cracked on with stripping the lead from the roof and hurled it merrily skip-wards, I soon changed my mind about that.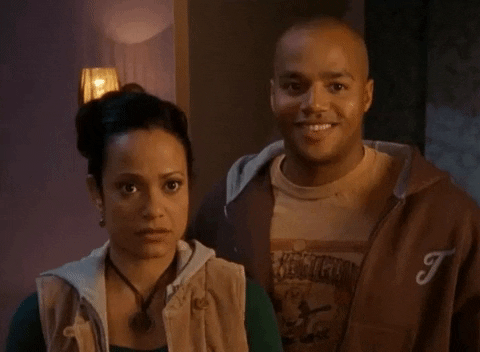 Roof tiles are heavy, you see (No! Really!), but not too heavy to shatter as it meets metal with the force of gravity behind it. Soon we were witness to the spectacle of roof tiles shattering in the bottom of the skip and bouncing merrily around it, decorating the drive and the road beyond it with shrapnel. (Luckily, a neighbour had come to our rescue and allowed me to park the car in their drive).

Job Done
And that was our morning, or at least the first bit of it. After an hour or so of the slate-rain, the footsteps above our heads, and the, uh, banter, of the roofers, most of which was most definitely libellous, and one unfortunate case of an errant foot finding its way into our (thankfully vacated) bedroom, we decided to decamp to a coffee shop and let them get on with it, which, to be fair, they did.

When we returned from our breakfast, the roof was a skeleton of joists, and when we got back from my parents (we had a trip over pre-arranged for my dad's birthday, father's day, and my nephew's birthday. It don't rain, but it pours), the workmen were gone and the roof all but finished. All that was left was a 4ftx4ft section, a bit of coving, and (as I later found out) the leading of the chimney.

This last bit of work was finished in full yesterday including the boarding and plastering over of that heavy-footed roofer's lasting imprint, leaving us with a new and rather swanky looking roof, a patched up bedroom ceiling, and a lot of peace and quiet.

Built To Last
As ordeals go, it's not the worst thing I've ever had to endure. The work was completed quickly, efficiently and although we still have the skip in the driveway and the scaffolding up (No, Tina!) pretty cleanly, too.
In fact I'm reasonable sure that as I write next week's blog, the only evidence of the work completed will be the work completed, our brand-new, shiny roof. It might have been costly, It might have been an investment, but I'm pretty sure it will be a lasting one. In fact, I wouldn't be surprised if the roof outlasts our brief span upon this earth.
Now, on to the next thing.
Until next time
***
Hey, folks! If you would care to take a look at some of my more creative writing, then the links below will transport you to the magical worlds of two anthologies my short (and in two cases, very short) stories have been included in. Feel free to check 'em out!
New Tales Of Old: Volume 2
https://www.amazon.co.uk/gp/product/B09TMVTX9H/ref=ppx_yo_dt_b_asin_title_o00_s00?ie=UTF8&psc=1
Death Ship
https://www.amazon.co.uk/dp/9198684140/ref=cm_sw_r_apan_glt_fabc_TWEMTA3KWK7T89QEZPF6?fbclid=IwAR322Fx5nfgVUQAA62ZZ6CUsNnBm8pbSxPanzz6Qkjg3vAv4ESipq7iKKhs
https://www.waterstones.com/book/death-ship/david-green/s-o-green/9789198684148?fbclid=IwAR2gP4CXHSG7wTccO39wOqXFtI81k0259Ep8DUM48Ki6kTUdlKoF3yafojA
https://www.amazon.com/gp/product/9198684140/ref=ewc_pr_img_1?smid=A2XZ7JICGUQ1CX&psc=1&fbclid=IwAR2Wa6sGxb82_VCsC7l1CGXwHjsSwTheqba6jDX_G8EDsywZoGpC93nXr2w
Reaperman
https://www.amazon.co.uk/Reaperman-Drabbles-3-Legends-Night-ebook/dp/B099NNPTQ1A
Pestilence
https://www.amazon.co.uk/Pestilence-Revelations-Black-Ink-Fiction/dp/B09MDLZGHY/ref=sr_1_1?crid=2VP38WZDWJVAF&keywords=black+ink+fiction&qid=1654090896&sprefix=black+ink+fiction%2Caps%2C218&sr=8-1
The Musketeers Vs Cthulhu
https://www.amazon.co.uk/Musketeers-Cthulhu-Court-King-Louis-ebook/dp/B09YQKQQB7/ref=sr_1_18?crid=2VP38WZDWJVAF&keywords=black+ink+fiction&qid=1654091002&sprefix=black+ink+fiction%2Caps%2C218&sr=8-18