Hello dear readers!
And welcome to what promises to be the calm before the storm.
No, I'm not talking about the recent atrocious weather that has seen areas of North Yorkshire hit with floods, and farmers dealt a vicious blow regarding crops and livestock. No, this particular storm is one that is more to do with Jack Daniels, social occasions, public speaking, and perhaps just a touch more Jack Daniels.
Yup, the next few weeks promise to be interesting.
.
Kick Off
The fun starts today. It won't be the most intensive of the following week's alcohol soaked debauchery but then, you do have to start somewhere, so I guess the footie will be a nice way to ease in to the spirit of things.
For those who might be reading this from across the Atlantic (And I know there are one or two who put themselves through that ordeal), I'm talking of 'Soccer' or as the rest of the world calls it Football (You hit a ball with your foot for vast swathes of the match, go figure), and in particular the start of the regular season for my own beloved Leeds United. We won't be there in body, especially seeing as 'there' is the home ground of our adversaries, Bristol City, but we will be in the local hostelry shouting at the telly with the rest of the local fans, and of course Mr Daniels.
Bachelor Boys
As I say though, that is just the start. The following week will see me celebrate a landmark-ish birthday of 45 not out, and it will also see me embark on the Stag-do (Bachelor party for Statesiders) of one of my very closest friends. This will be an all-day pub-crawling affair that, as Best Man, I get an automatic pass from the Mrs for. If all goes to the extremely loose plan it will culminate in a spot of Karaoke and the growing realisation that we're all a bit too old for partying until the wee small hours. The usual game of last man standing (or in my case sitting) will most possibly be slightly truncated as the boys fall by the wayside, but then you never know, the fountain of youth may prove to be located just behind the bar.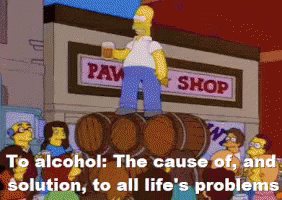 I would of course love to regale you all, my dearest readers, with the stories of triumph and disaster that will no doubt emerge from the full day of fun and frolics, but alcohol does tend to impair the memory a little and as we all know, what goes on Stag, stays on Stag.
Free Speech
So that's next weekend taken care of. Both days will be a write-off, as the Sunday is already booked in for recuperation from the no doubt epic hangover, so it's lucky that it's a non-blog weekend. It can't be too much longer though until I sit myself down and get some speech writing done. There are just six weeks until the wedding. Six weeks before I get up, try not to fall down, ad deliver a sparkling, emotional, and side-splittingly funny speech to a sea of faces I will only be partly familiar with. Luckily spelling and grammar will be less of a consideration than these poor efforts at wordsmithery but I still need to find a way to be vaguely amusing, and, as the groom is most definitely Scottish, and a fair amount of guest of the same persuasion, jokes about kilts are probably best left alone. Dirks are part of the national costume after all.
So there we are. A busy time all around. A time in which the celebration of cheating the grim reaper for another twelve months, usually the highlight of the season, will actually be among the least of my considerations. I'll concentrate on the big match for today, but after that it will be sending emails, and Facebook messages to ensure the gang will all be there come eleven A.M. Saturday next. I of course reserve the right to be fashionably late, as is the usual, but as for the rest of the miscreants, well, I'm not above seeking them out and dragging them bodily to the bar (This may well be a necessity on my friend Dracula's round). There's also the Karaoke bar to finalise, but that's just a case of slipping them the money for the room.
The Best Man?
Hopefully, this won't be the last you hear from me. Hopefully I can survive next Saturday without too much falling out of my wheelchair, or succumbing to alcohol poisoning. It is a hope that I think might be shared. Not that I'm bigging myself up as Best Man or anything, but I have seen who's next on the list of candidates, and I'm confident in doing a slightly better job. What goes on Stag may very well stay on Stag, but I'd like to think that what goes on Stag will also manage to somehow find his way home in one piece.
Wish me luck!
Until next time.